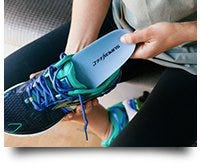 Our Products
Schuler Shoes offers a wide range of over-the-counter insoles/inserts and orthotics. Unless you are familiar with our line of insoles/inserts, online purchasing is not recommended.

For a more complete introduction to our orthortics, we invite you into one of our store locations to discuss with a Board Certified Pedorthist (CPed) or one of our Footwear Consultants.
Orthotic Philosophy
We have made it our priority to partner with the medical and wellness community to reach more people in need of footwear solutions.

In addition to footwear, we carry over-the-counter orthotics and insoles. The intent of our insoles and over-the-counter orthotic products is to enhance footwear comfort and support a healthy lifestyle. Our offering of insoles and orthotics are not custom orthotics and are often recommended by the medical community as a beginning or temporary solution.

We are sensitive to the needs of our partnering doctors and make it our first priority to facilitate the fitting of a custom orthotic into a shoe and work with patients to find the proper footwear to accommodate custom orthotics.

We work closely with our Board Certified Pedorthists and educate our sales associates on the appropriate use of over-the-counter products. When there is a recommendation from one of our referring partners or an additional need that a custom orthotic doesn't work in (i.e. dress shoes), we suggest one of our over-the-counter products to enhance the comfort for the additional shoe.